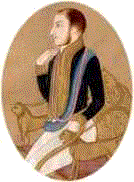 Lord Dalhousie
Railways arrived in India within 30 years of their inauguration in England. Lord Dalhousie foresaw the tremendous potential for this modern, speedy means of transport in securing British control over a vast country with large sections of rebellious population. He had a dream of 'binding India by iron chains' primarily with an aim of increased facilities to be derived from railway transport in the administration of the country and the mobility of military and other security forces and to transport Indian cotton for English textile mills.

The initial crucial discussions in connection with the commencement of the railway construction were started by the sponsors of the East Indian Railway Company formed and organized in May , 1845.
Rowland McDonald Stephenson, the first Agent and Managing Director of the East Indian Railway Company was the pioneer for ushering in the railways into India, particularly Eastern India. In 1844, he submitted the first traffic and engineering feasibility report for a line from Calcutta to Mirzapore to the East India Company.
In May 1845, Stephenson established the East Indian Railway Company with a membership drawn mostly from England and worked relentlessly to get the East India's Company's approval. When William Theobold, a friend of R. M. Stephenson approached Prince Dwarkanath Tagore, he offered to raise one third of the capital for a line connecting Calcutta and the Burdwan collieries.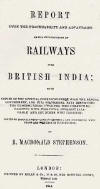 R.M.Stephenson's report
After four years of protracted negotiations and strenuous efforts, including a direct appeal to the British Prime Minister, a contract was signed on 17th August 1849 between East Indian Railway Company and the East India Company, entitling the former to construct and operate an "experimental" line, 161 kms. long between Calcutta and Rajmahal which would later be extended to Delhi via Mirzapore.

There were objections in India too. One British Engineer felt that it was impossible to lay a railway line on the surface of the land in India, on account of high mountains, impassable mountains, thick jungles, herds of cattle etc. He recommended that the line be suspended throughout its length by suspension chains at a minimum height of eight feet above the ground!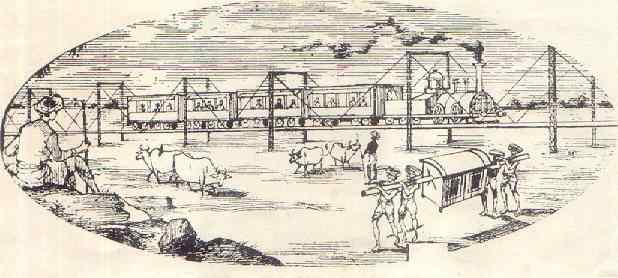 An Indian artist's impression of "eight feet" up overhead hanging tracks as proposed in early 1840s
Construction of an experimental EIR line from Howrah to Raniganj was sanctioned in 1849, along with a similar line on the Great Indian Peninsula Railway. Lord Dalhousie turned the first sod when work began on EIR in 1851.
While the first train from Bombay to Thana ran on 16th April 1853, the first train in Eastern India ran out of Howrah for Hooghly only on 15th August 1854, some sixteen months later . as EIR faced unexpected impediments.
There were delays in obtaining the permission from the French for traversing their territory in Chandernagore.

The locomotive shipped from England got misdirected to Australia , and could be brought back only in 1854.

The ship HMS Goodwin', carrying the coaches sank at the Sandheads near Diamond Harbour.
By the end of 1853, 61 kms of the line was ready up to Pandooah and experimental trains began to run on the newly constructed line from 28th June 1854
An artist's impression of the ship sinking at Sandheads