(CLICK ON THE THUMBNAILS TO ENLARGE PICTURES)
Howrah Station in its infancy was only a mud hut with one platform line with just two pairs of trains. By 1892 it was dealing with 32 passenger trains per day. Today, 150 years later Howrah is a mammoth system—21 platforms, over five hundred trains and handling 12 lakhs of passengers each day—goods and parcels apart.

The real Zero Mile of EIR found near This tableau stands as witness of EIR's firs
Howrah control train journey
The first station was a modest structure of red brick with a roof of corrugated iron sheets with one platform. Another platform was added in August 1865 to facilitate arrival and departure of trains separately. An additional platform was provided in 1895.
Incoming trains sometimes extended 5 ½ carriages beyond platform. Passengers had to 'stumble on signal wires and switch rods, between the train and the pier of the over-bridge, lighted only by a few hand lanterns.' A group of American tourists 'were probably more surprised than delighted with the introduction to the City of Palaces.'
In 1900, the Bengal Nagpur Railway (BNR) laid a line to Howrah and the need for a new building became imperative. In 1905 a new station building, the North Wing of the present station, was constructed with six platforms. There was provision for adding another 4 platforms in the South Wing in future.
| | | | |
| --- | --- | --- | --- |
| | | | |
| An aerial view of Howrah Station – 1936 | Howrah Station –1913 | Howrah station in 1928 with itsnorth facing Main concourse. | The present Howrah Station |
There was a central road between the two wings joining the Buckland Bridge. This was the beginning of the cab road.
The main entrance to the North was on the road leading from the 'bridge of boats' across the Hooghly.
BNR trains were dealt with in the old station until the South Wing was constructed.
Several modifications were made in the internal layout from time to time. During World War II, several panes were erected in the concourse to provide waiting areas for troops. Refugees from East Bengal occupied these panes in the wake of partition. They were cleared only in 1957.
In 1957, while inaugurating railway electrification in the East, Nehru remarked that the station looked like a 'marriage pandal.'
After electrification in 1957, two more platforms were added in the North Wing to deal with suburban trains. In 1960s the Northern entry was closed when CMDA remodelled the circulating area outside the station and built subways from the Howrah bridge to the station.
The station was declared a model station in 1987 and extensive work was undertaken to improve passenger facilities. The New complex of Howrah station having a 100 bed Yatri Niwas was opened in 1993 to add four platforms for trains to and from SE Railway.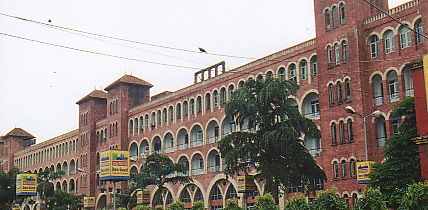 Yatri Niwas _Howrah
NEXT PAGE