The Triumphant Return,
Swami Vivekananda landed at a jetty near Budge Budge Railway station on a cold winter morning on 19th February, 1897 after delivering his historic speech at Chicago.
Swamiji walked up to the old Budge Budge station and entered the first class waiting room. There he waited for the return train to Sealdah, on a wooden chair. This chair is still preserved in the office of the Chief Yard Master of Budge Budge.
(CLICK ON THE THUMBNAILS TO ENLARGE PICTURES)
The Preserved chair which Swami Vivekananda used at Budge Budge Rly. Station
Sisters and Brothers of America,
It fills my heart with joy unspeakable to rise in response to the warm and cordial welcome which you have given us……"As the different streams having their sources in different places all mingle their water in the sea, sources in different tendencies, various though they appear, crooked or straight, all lead to Thee"…. The World's Parliament of Religions has become an accomplished fact, and the merciful Father has helped those who labored to bring it into existence, and crowned with success their most unselfish labour………I pity him from the bottom of my heart, and point out to him that upon the banner of every religion will soon be written, in spite of resistance: "Help and not Fight", "Assimilation and not Destruction," "Harmony and Peace and not Dissension."
The Great Escape

Netaji Subhas Chandra Bose's historic escape from the country in 1941 included a train journey from Gomoh railway station. Eastern Railway is proud to be associated with the famous escape of this great patriot of the nation.
Netaji escaped from Calcutta and drove to Bararee near Dhanbad to his nephew's house from where he reached Gomoh station and boarded the Kalka mail in disguise on 18th January 1941. The last few moments of the event on Gomoh Railway station are best described by his nephew Dr. Sisir Kr. Bose as an eye witness account in his book 'The Great Escape'.
"We watched him mount the over bridge slowly after the porter and walk across it with his usual swaying majestic gait till he disappeared into the darkness towards the platform on the opposite side. By that time the rumbling of the approaching mail train was audible. We waited and hoped that everything would go well. Eventually we heard the train steam off and then saw a garland of light moving away and away to the tune of rhythmic clatter of moving wheels"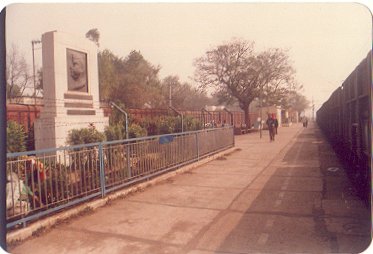 A memorial plaque at Gomoh station from where Netaji boarded the Kalka mail.
Netaji with his followers at a Railway station.
The Last Journey…
Gurudev Rabindranath Tagore's relationship with the railways dated back to the time when he was just 11 years and 9 months old as he travelled on a half ticket from Howrah to Bolpur on 14th February 1873. It is indeed ironical that his last journey was to be also by rail – traveling from Bolpur to Howrah on 25th July, 1941 just two weeks before his death.
The then Chief Operating Superintendent of EIR, Nibaran Chandra Ghosh provided his saloon EIR 2377 for the poet and accompanied him from Bolpur to Howrah. The saloon was attached to Pakur passenger and reached Howrah at 2:40 p.m. This was to be the last journey of Rabindranath Tagore.
The saloon has been refurbished and is preserved in "Chirantani" near Bolpur station building in the same condition.
| | | |
| --- | --- | --- |
| | | |
| Rabindranath travelling in a Railway Carriage | Rabindranath at Howrah Station | The memorial plaque engraved on the side panel of the saloon EIR 2377 |