Independence brought glory to the country. EIR in its attempt to share the joy also faced the post independence trauma of separation. On the other hand, it got appended by the truncated Sealdah division of B & A Railway having interchange points with East Pakistan (presently Bangladesh) at Bongaon and Ranaghat. Kanchrapara Workshop, Loco sheds at Calcutta and Chitpur and Stores depot at Halisahar became part of EIR.

This momentous occasion has been rightly described by the then GM of EIR Khan Bahadur Ghulam Faruque, who later became Chairman of Pakistan Railway Board, and Governor of East Pakistan (now Bangladesh).

This day, the 15th of August 1947, India attains her freedom, her independence. We all have toiled, suffered and made sacrifices beyond measure to attain it. This long-cherished desire has now been fulfilled. Indian's independence is won. But what next? Is it not the opportune moment to think collectively and to act collectively? Is it not the auspicious occasion when we can see things in national perspective, in national growth and in the way a nation develops? We, Railwaymen, have faith in our capacity, our intelligence, our will to endure and succeed.
Now that we have the opportunity, we must make full use of it. Let the Indian Railways be viewed as one of our sources of national wealth and let us all—the Nationals of this great land—look upon it as our own, think of it as our own, and put our shoulders together to make it a proud possession of people, proud of their great heritage.

Long Live India.

Division of assets and staff of the erstwhile B & A Railway caused many problems. The most traumatic event was the inflow of refugees from East Pakistan. They occupied every inch of space near the major stations around Calcutta with their meagre belongings.

Refugees were vacated from station in 1957, in preparation for the inauguration of electric suburban trains, but in Sealdah they stayed for another two decades until they were rehabilitated in Madhya Pradesh.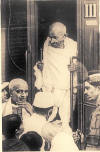 The Father of the Nation Mahatma Gandhi was very fond of travelling by rail and generally travelled in third class. He did a lot of touring by rail in between 1915 and 1919 and took up the cause of the third class passenger and made a crusade for better travel. Due to his untiring efforts, better facilities and amenities were provided not only to the third class passengers but also for all other users of the railways.

Gandhiji fought relentlessly for the rights of the indigo growers of Champaran in Bihar. He came to Calcutta by train and then reached Patna-Bankipore on the 10 of April 1917 on his way to Champaran accompanied by a well known freedom fighter Rajkumar Shukla. A tableau of the Mathama's first visit to Patna is installed at Patna Junction railway station.

The tragic Bihar earthquake of 1934 prompted the Mahatma to make his second visit to Patna by rail in March 1934 to tour the earthquake affected areas of Bihar for assuaging the traumatized masses

He had to cut short this visit and rush back to to meet the Viceroy Lord Mountbatten after getting an urgent message. Gandhiji refused the Viceroy's offer of a private aircraft and insisted on travelling by train — third class !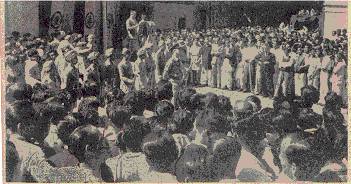 GM, EIR V. Nilakantan addressing the condolence meeting on the death of Gandhiji
After the assassination of the Father of the Nation which shook the world on 30 January, 1948 the EIR observed two minutes silence and paid homage to the Mahatma in its Headquarters. The then General Manager of EIR, V. Nilakantan addressed a condolence meeting where rich tributes were paid to
"one, if not the greatest man that the world has produced".
The real tribute to Mahatma Gandhi from EIR came in the form of introduction of an exclusively third class express train named 'Janta Express' on 1st October 1948 which initially ran between Patna and Delhi but was extended upto Howrah in 1949. this was the first Janta Express train of the country. GIP followed EIR's example and started this Janta Express soon after.