Jamalpur Workshop
The locomotive department of EIR was originally located at Howrah, with a workshop to handle building of locomotives, carriage and wagons. It was in the year 1860 that Mr. D.W. Campbell decided to remove the workshop to Jamalpur thus establishing The Locomotive Engineering Workshop at Jamalpur (as it was originally known) on the 8th of February 1862. It enjoys the distinction of being the largest and the oldest locomotive repair workshop with the most diversified manufacturing activities on the Indian Railways.

View of Jamalpur Workshop, 1863
Jamalpur was only an engine changing station and light repairs were done in the running shed there. Jamalpur was on the original mainline of EIR but with the construction of the Chord line and the Grand Chord, it is no longer on the main line. The place was adjacent to Munghyr, which was at that time considered the Birmingham of the East.
Inhabitants of Munghyr had been the mechanics by trade for centuries, famous for manufacturing of iron wares, guns, pistols, spears and other works. It was, therefore, expected that there would be a plentiful supply of skilled mechanics from Munghyr.
Campbell decided to remove the Howrah workshop to Jamalpur because the drivers and fitters were giving trouble. One day Mr. Campbell, who was returning from weekly meeting at the Agents Office (29,Theatre Road), happened to call at Wilson's Coffee Room for Tiffin and there he found three of his Principal Workshop Foremen and two Engine Drivers enjoying themselves in a rather boisterous manner. They also asked him to join them in having a peg.
What he said in reply has never been recorded, but the men there quickly retired and after that Mr. Campbell never rested until he had the workshops and the locomotive workshop officers removed from Howrah to Jamalpur.
It was for the first time in India that a system of training indentured apprentices was conceived and implemented. The Gymkhana at Jamalpur which later became a renowned school of Railway officers was started during this period for recreational facilities.
Jamalpur was also the headquarters of East Indian Volunteer Rifles with about 2300 strong personnel and necessary armoury and headquarters staff in Jamalpur. It is still there in the form Territorial Army Organisation of Eastern Railway.
In 1899, Jamalpur Workshops started producing steam locomotives FIRST in the country, The FIRST to have set up a rolling mill in 1870, The FIRST to establish a railway foundry in the year 1893, The FIRST to manufacture a rail travelling crane in the country with indigenous know-how in 1961, The FIRST to manufacture high capacity synchronised electrically operated lifting jacks popularly known as "JAMALPUR JACKS" in 1962, The FIRST and the only railway workshop to manufacture electrical arc furnaces of ½ tonne capacity in 1961.
Jamalpur Shops had their own 100 KW Power House commissioned in 1901, and produced Electricity for the entire Workshop and the Staff Qrs. On 15th January 1935, the Jamalpur Workshops along with entire railway colony was destroyed by an earth-quake. It took 3 years to rebuild it from scratch.
"Express " arrived along with fairy Queen

in 1855

and worked in EIR

View of a section of the large workshop

Construction of Jamalpur workshop after earthquake.
Kanchrapara Workshop
Kanchrapara workshop was set up in 1863 by the then Eastern Bengal Railway as a combined workshop for repairs to steam locomotives, wooden bodied carriage and wagons. The management of this workshop was taken over by the state on 1st July, 1864.
In the year 1914, a separate carriage and wagon workshop was completed and shifted to its present site. This workshop has the distinction for repairs to aircraft and manufacture of armoured cars and hand grenade shells during world war II.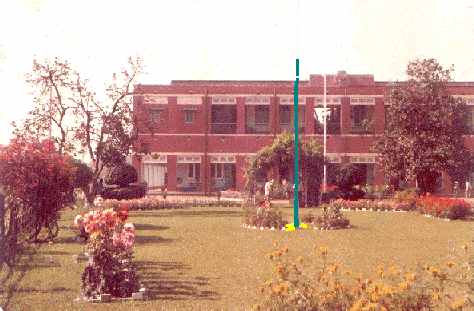 View of Kanchrapara Workshop Administrative building
The workshop also manufactured 78 nos. Tower cars between 1957 to 1986 and thereafter this activity was shifted to Jamalpur workshop.
With the introduction of electric traction, this workshop was started repairs and periodic overhaul of electric locomotives and had the privilege of turning out first electric locomotive after POH in 1965. The first EMU motor coach was turned out after POH in 1965.
After obviating certain technical constraints, the workshop has the facility for rewinding work of all types of traction motor armatures, traction transformers and auxiliary machines. In 1987, wagon shop was converted into full fledged EMU coach POH shop. The workshop at present deals with electric locomotive POH, EMU coaches, conventional coaches (non-AC), MOG rakes and is manufacturing number of components required for electric locos, EMU coaches and wagons.
Liluah Workshop
View of Liluah workshops in early 20th. century.

Soon after Railways came to India, the management decided that not only should the rolling stock be manufactured in India but full maintenance facilities are also needed. Howrah was chosen as the site for the first workshop but since it was found to be inadequate, the facilities were shifted 7 Km. Away at Liluah by setting up a modern Carriage and Wagon Workshop in 1900.
The workshop was primarily assigned the task of manufacture of carriage and wagon and also their periodic overhaul.
The coach manufacturing was undertaken up to 1972 and about 3000 coaches there produced. Wagon manufacturing was also discontinued after 1947.
As other workshops started functioning, Liluah gradually started specializing in maintenance only.
During second world war Liluah produced rolling stock for military movement, hundreds of Ambulances, water cars, armoured vehicles and lorries for the allies. Ammunition was manufactured for the Royal Army and Royal Air Force and so was minor items like "Dahs" and tent pegs.
Liluah is currently undertaking periodic overhauling (POH) of 205 coaches per month including 20 Air Conditioned Coaches. It has become the largest coaching POH workshop in the country. With an effluent treatment plant, the workshop has acquired ISO 9002 certification.
It is a great privilege for the existing Eastern Railway to have all the three primitive Workshops in its fold, even after
second reorganisation on 1st October '2002.

You can view the sliding pictures above, in pieces here. Click to enlarge