As the traffic continued to grow even beyond the capacity of the main line via Jhajha and Luckeesarai, it became necessary to find a shorter route. A plan drawn up in 1846 had proposed a line from Calcutta to Naihati and after crossing the river there to proceed directly to Moghul Sarai. This plan was abandoned in favour of a line along the Ganges.
A fresh survey was undertaken in 1888-89 to find a direct route and after two more surveys to cut costs, a route was determined from Dhanbad to Moghul Sarai via Gomoh, Kodarma and Gaya. The discovery of coal near Jharia led to the construction of a short branch line from Sitarampur to Dhanbad in 1880.

The major works in the line were a bridge across the river Son at Dehri, tunnelling and ghat line construction between Gurpa and Gujhandi. The 10,052 ft. long Upper Sone bridge was then the second longest railway bridge in the world falling short of the Tay bridge near Dundee by 455 ft.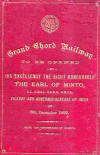 The original brochure (above & far left) issued by E.I.R. during opening ceremony of Grand Chord, kept at E.Rly. H.Qrs.
The new line called Grand Chord was opened on 6th December 1906, by
the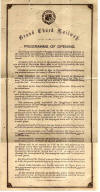 then Viceroy Lord Minto in a glittering ceremony at Gujhandi. It was 281 miles long and cost about Rs.4.15 crores to build. It reduced the distance from Bombay and north India to Calcutta by 50 miles. The lead for coal from Jharia coalfields to North India would reduce by 110 miles as it would no longer be necessary to take a detour via Sitarampur.

The Viceroy and Lady Minto travelled to Gaya, from where they were escorted by James Douglas, Agent of EIR and others to Gujhandi in a specially constructed Observation Car. Two special trains running from Calcutta carried the invitees, which included the Lt. Governor of Bengal, to Gujhandi.

The Viceroy screwed on a silver bolt with a silver spanner to formally complete the line. In his speech, he expressed the view, shared by most of his white audience, that if the EIR had been built a few years earlier the horrors of the mutiny could have been avoided.




Majestic 100ft. high viaduct Barakar river bridge : single line opened in 1904 & double line in 1932